Author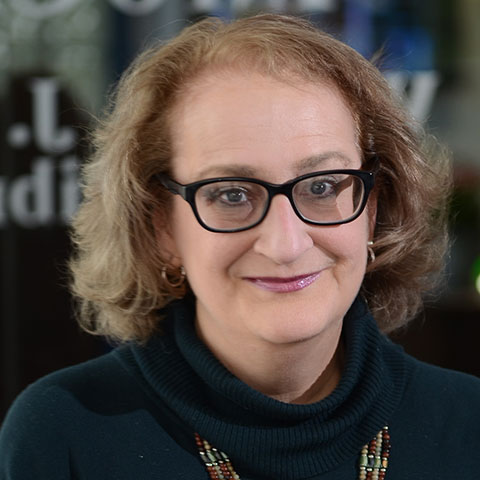 August 2022
Environmental, social, and governance (ESG) concerns have permeated the public consciousness over the past few years and remain top of mind throughout the investment world. The Forum for Sustainable and Responsible Investment estimates that, of $51.4 trillion professionally managed assets in the United States at the end of 2019, $17.1 trillion (33 percent) were sustainable investing assets.
The question remains, however, whether ESG investments and funds (ESGs) have a place in defined contribution (DC) investing. The perception of increased cost and lower returns (whether deserved or not), and the not-strictly-pecuniary nature of these investments raises questions about how they fit in with fiduciary oversight and responsibility.
Guidance from the Department of Labor has been mercurial at best. Today, however, plan sponsors and fiduciaries can consider ESG factors in the selection of plan investments. In fact, there are schools of thought that say failure to consider ESG factors is the real breach of fiduciary duties. ESG considerations are legitimate business risks that firms need to consider in order to make prudent decisions.
LIMRA recently examined the use of ESG investments and screens in DC plans by surveying DC advisors about how ESG investments fit into their own practices, value proposition, and philosophies for their clients and the plans they advise. These advisors were segmented based on their level of involvement in DC plan sales and service (as a share of practice revenue) (Figure 1).
Figure 1
Advisor Segments

Source: DC Advisor Views: ESG Investments in DC Plans, LIMRA, 2022.
Top Five Takeaways on Advisors and ESGs
ESGs in DC will gain momentum.
More than half of DC advisors are working with plans that use ESG screening criteria as part of their investment selection and monitoring process. There is not much difference among the advisor segments. Advisors expect that their use of ESG criteria and funds will increase in the next three years.

Current use of ESGs is not widespread across advisor books.
While many advisors have exposure to ESG, the use of funds and screening criteria is not prevalent across their books of business. A modest number of plans use each, and advisors expect that growth will be moderate. When ESG funds are used, they make up a small portion of a plan's investment lineup. About half of DC-focused advisors report there are "a couple" of ESG funds included. It is extraordinarily rare for fund lineups to be comprised entirely — or even mostly — of ESGs (Figure 2).
Figure 2
Amount of ESGs in Fund Lineup
When ESGs are used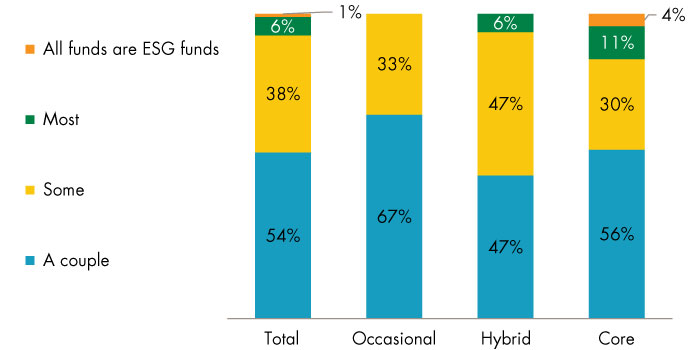 Source: DC Advisor Views: ESG Investments in DC Plans, LIMRA, 2022.
Advisors are largely neutral — but not negative — about ESGs.
Advisors express some degree of openness to including ESGs in plan investment lineups, when a plan sponsor expresses interest (Figure 3).
Figure 3
Advisor Encouragement of ESG Use in DC Plans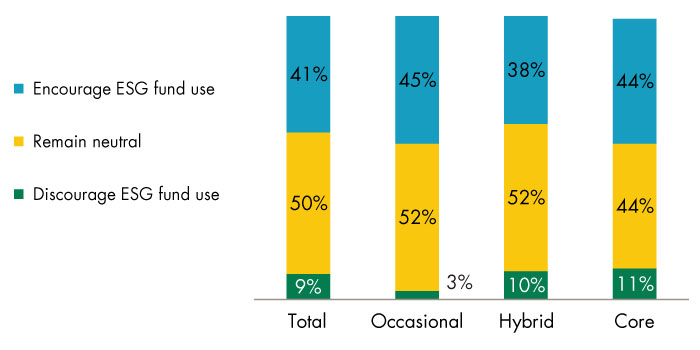 Source: DC Advisor Views: ESG Investments in DC Plans, LIMRA, 2022.
Advisors seek information about ESG.
Nearly 3 out of 5 advisors use investment wholesalers to learn about ESG, and 25 percent say this is their primary source of information. Advisors also utilize investment data providers (49 percent) and industry publications (48 percent).

Advisors see the bigger picture.
Almost half (47 percent) of advisors agree that ESG investments in DC plans would have impact on environmental, social, and corporate governance on a macroeconomic level. Occasional advisors are more likely to feel that ESGs in DC plans will have a broader impact.

Instead of creating risks for plan sponsors, ESGs may help sponsors mitigate risk. Nearly half of Core advisors (47 percent) disagree with the idea that ESG investments create a fiduciary risk for plan sponsors. In addition, 53 percent agree that ESGs can mitigate risk in the investment lineup.

While this is encouraging for ESG proponents, a notable proportion of DC-focused advisors remain concerned about ESGs. One third of Core and the same percentage of Hybrid advisors indicate that ESG investments create fiduciary risks for plan sponsors.
Coming Together … and Moving Ahead
ESG screens and investments in DC plans represent a convergence of forces within domestic and global economies, with a new twist of making this type of investment work within the heavily regulated, litigated, and scrutinized environment of ERISA plans.
Bringing new subjects to the fiduciary conversation — often at the urging of plan participants themselves — ESG consciousness represents a new consideration for all involved. Platform providers, investment managers, fiduciaries, advisors, and plan sponsors all can be active stakeholders in this evolving market — as well as plan participants, who may want their retirement investments to reflect their own personal value systems.
Plan advisors — as both gatekeepers and harbingers of the DC ecosystem of plan sponsors and participants — while not fully engaged today, anticipate growth momentum with ESGs. This represents an opportunity for other stakeholders to help them understand, assess, analyze, and present these options to their DC plan clients.