Author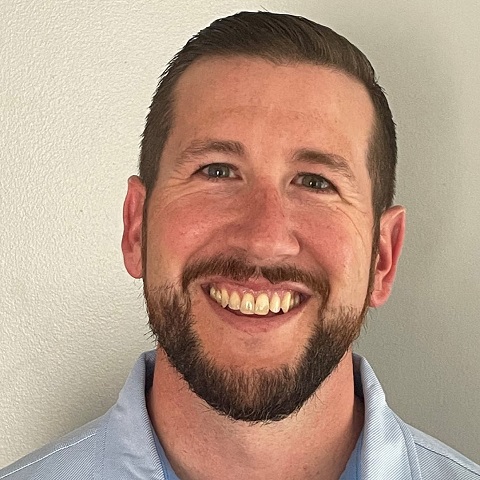 May 2023
Last year, the insurance industry was in the midst of the most challenging recruiting climate many of us have ever experienced. Now, as we move through 2023 amid continued economic uncertainty, hiring expectations are not quite as intense as they were in 2022, but they remain strong. The vast majority of insurers are planning to increase or maintain their headcounts this year, according to our Q1 2023 Insurance Labor Market Study, conducted in partnership with Aon plc.
This semiannual survey has collected revenue and hiring projections from carriers across all sectors of the insurance industry since 2009. Below are some of the key highlights from the most recent iteration of the study, as well as ways you can leverage these findings within your own talent strategies.
What Can Life Insurers Expect in 2023?
The insurance industry is continuing to experience job growth. Half of life and health insurers intend to add staff in 2023, driven by the desire to improve service delivery. Thirty-six percent expect to maintain their current staff sizes and 14 percent anticipate reducing their headcounts.
Although anticipated staff increases are 11 and 15 points lower than July 2022 and January 2022, respectively, the insurance labor market remains tight. The average unemployment rate for insurance carriers and related activities was 1.5 percent for the first quarter of 2023, compared to 3.5 percent for the overall U.S. economy, according to the U.S. Bureau of Labor Statistics. Additionally, employment levels are high, with the insurance carriers and related activities sector adding nearly 32,000 jobs between March 2022 and March 2023.
The study found technology roles continue to be most in demand across all insurance verticals. Sales/marketing positions and actuaries are the second and third most in demand for life and health insurers. Overall, recruiting difficulty has eased compared to last year; yet, nearly all positions are considered as at least moderately difficult to fill. Not surprisingly, technology positions are considered the most challenging within life and health, followed by actuarial roles.
From a revenue standpoint, 93 percent of life and health insurers expect to see growth in 2023, with 64 percent anticipating increases of at least 10 percent. For many organizations, reaching both hiring and revenue goals will be dependent on their ability to attract and retain the right talent.
Likelihood of Increasing Staff by Function – Life/Health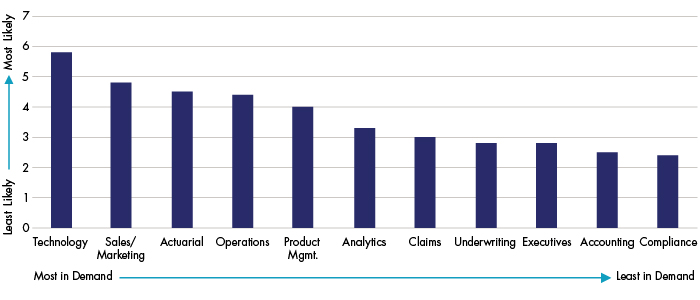 Recruiting Difficulty – Life/Health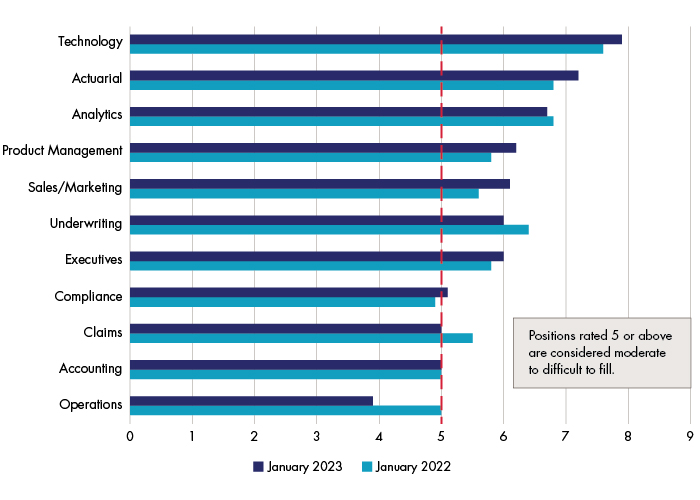 How Can You Remain Competitive?
Invest in your current employees.
Retention has become more important than ever amid "the Great Reshuffle" of the past two years. The industry is aging and voluntary quits within finance and insurance remain relatively high in 2023. However, many organizations are prioritizing hiring and onboarding, yet failing to create formal retention and succession strategies. Focus on developing your current team members, growing them to align with the organization's future needs and making the greatest long-term impact.
Focus on individual needs and engagement.
Your current employees are your competitors' candidates, making it vital to understand their motivators and what would make them leave. Regularly facilitate "stay interviews" to keep a pulse on your team's career aspirations and professional and personal needs. These conversations ensure you remain closely aligned with employees' expectations and are actively contributing to their long-term career satisfaction and building loyalty.
Create inclusive candidate pools.
Consider how to bring fresh talent into your organization. As a start, this could mean exploring similar roles in different industries, focusing on transferable skills, and reexamining where you've traditionally looked for new talent. Be discerning in your requirements for a role, distilling them down to those that are truly necessary. Instead of requiring a set number of years of experience, focus on the transferable skills you're hoping individuals would have gained in that time.
Provide flexibility.
Workplace flexibility has become a top priority for many professionals, even more so than bumps in compensation. Our study found 92 percent of insurers are currently offering hybrid work options. While specific preferences will vary among individuals, take the time to fully consider the in-office requirements of a role and be creative in offering flexibility in hours and location.
For additional findings from our study, download the summary and listen to the results webinar. Sign up to participate in the Q3 2023 iteration of the survey by clicking here.
If you'd like to talk more about the current state of the labor market and its impact on your team, or if The Jacobson Group can help provide the insurance talent necessary to meet your organization's goals, please reach out to us at +1 (800) 466-1578.
Jack Walsh is Managing Director of The Jacobson Group, the leading provider of talent to the insurance industry. He can be reached at +1 (312) 844-0489 or jwalsh@jacobsononline.com.