Author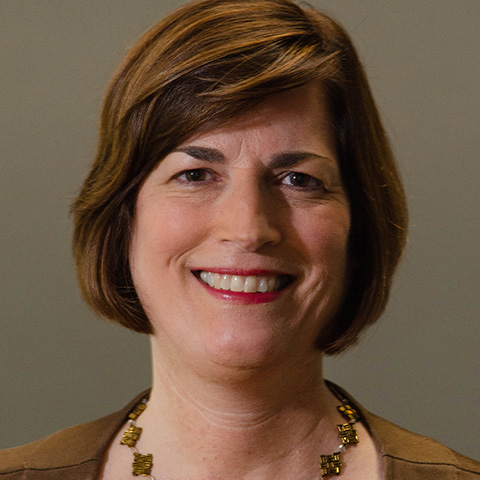 March 2023
The COVID-19 pandemic triggered dramatic changes in how employees view work, with some resigning and looking for new jobs that better fit their needs, and others leaving the workforce permanently. LIMRA research indicates that about 1 in 4 employees are actively looking for a new position. Turnover is costly, but the true cost is difficult to assess when considering the potential for employee burnout and lowered morale, loss of knowledge and experience, and operational inefficiencies, which can all ultimately impact the customer experience and company reputation.
In this tight labor market, employers are looking for ways to keep high-value employees from leaving. To aid in developing retention strategies, LIMRA explored potential drivers of employee engagement and loyalty including general attitudes towards work, personal characteristics, and benefits availability.
Why some employees choose to stay while others choose to leave
Of the attitudes examined, the employee belief that they are paid fairly for their work exerts the greatest influence on loyalty. Employee beliefs that there are good opportunities for career advancement, their contributions are valued, or their companies provide the training and tools needed to do their jobs well, are almost as influential (see Figure 1).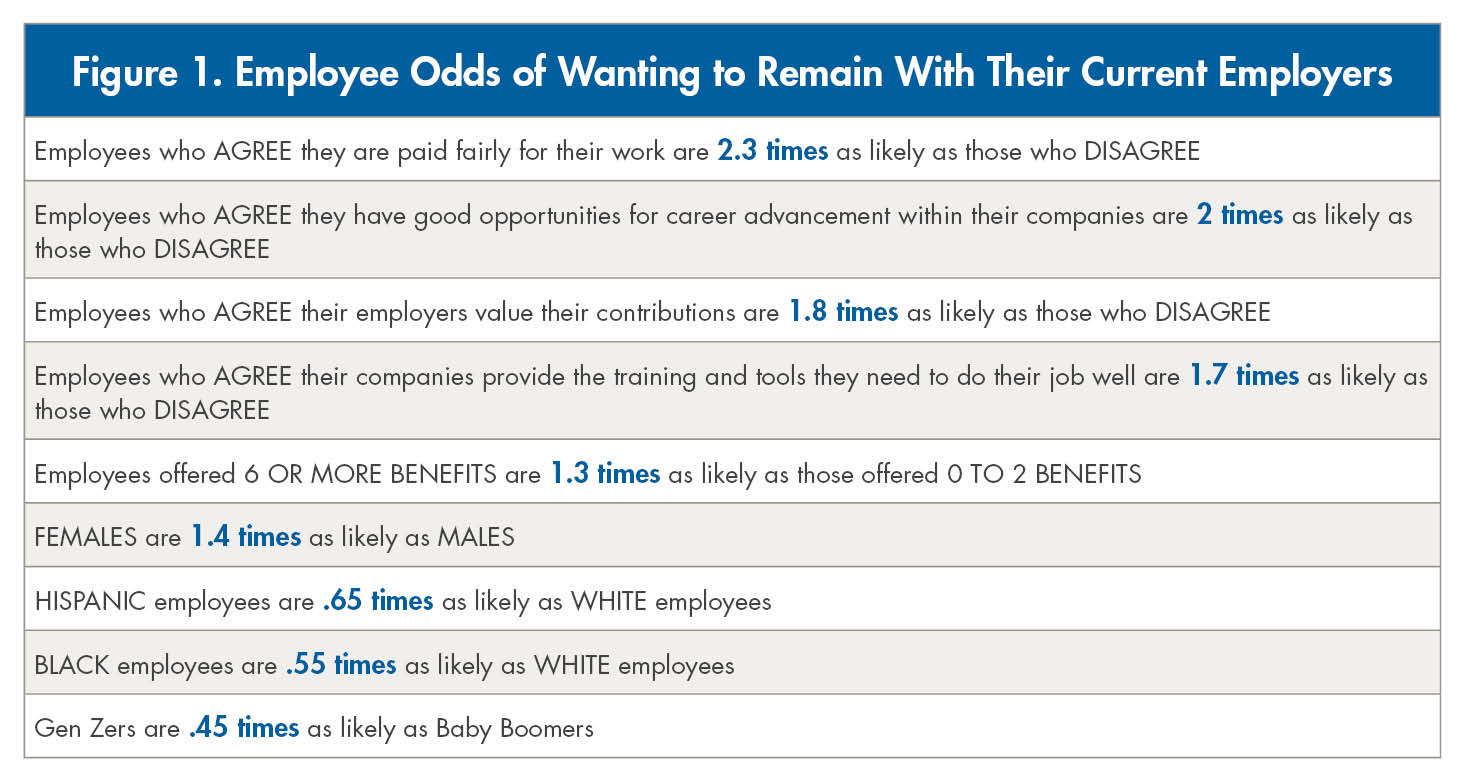 Personal characteristics also influence employee loyalty, with generation and race/ethnicity the most influential of those considered. Gen Zers are about half as likely as Baby Boomers to want to remain with their current employer. Younger workers expect to have multiple jobs, even careers, throughout their working lives. They also have different priorities – they are more likely to value flexible work, the opportunity for career advancement, the ability to acquire new skills, and a commitment to diversity, equity, and inclusion (DEI) (see Figure 2). However, Gen Zers appear to place less value on salary when it comes to making employment decisions, with only 30 percent saying it is the most important factor when considering a potential employer compared to 43 percent of Baby Boomers.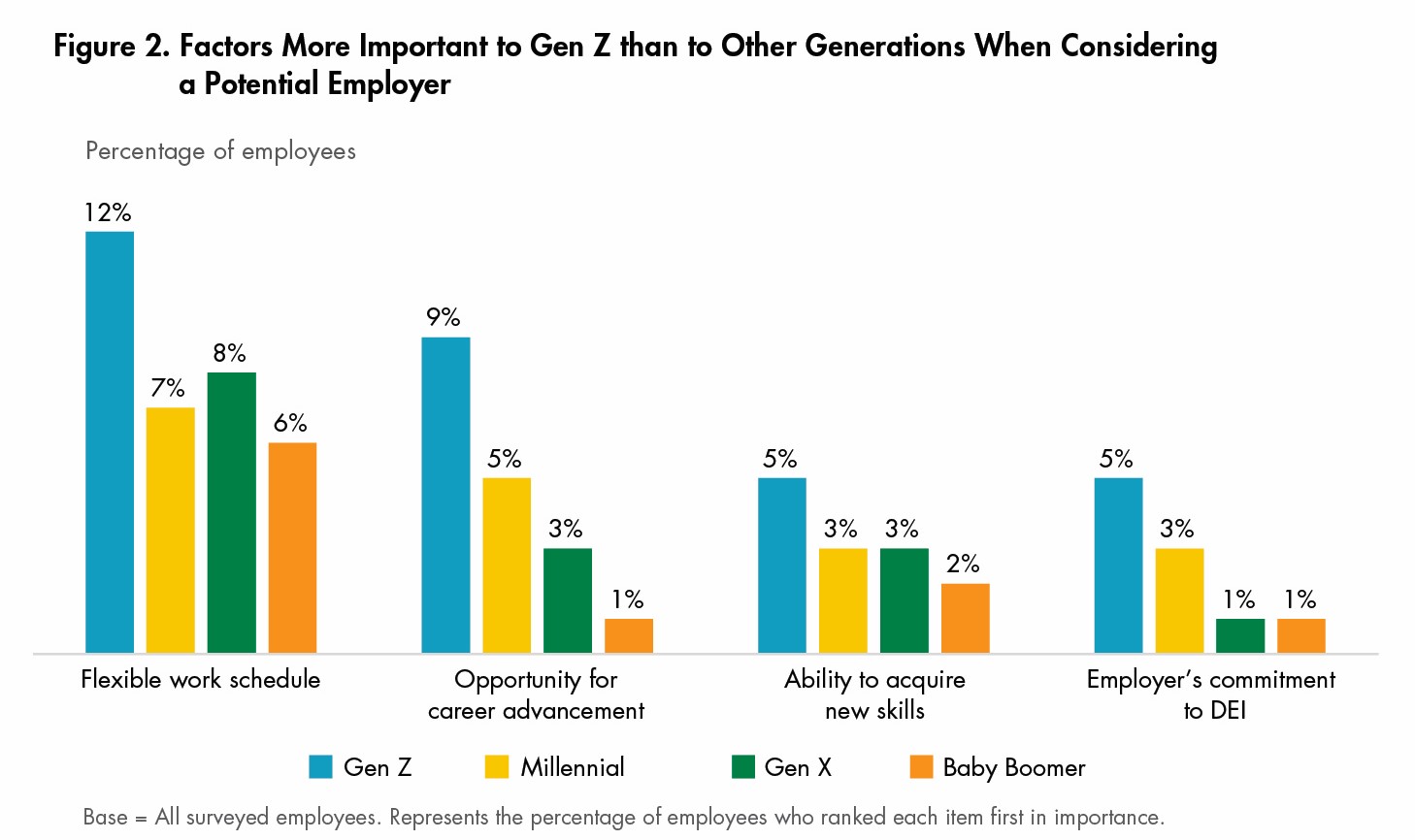 Black workers and Hispanic workers are much less likely than White workers to want to remain with their current employers. Workers in these groups face some similar challenges, including somewhat greater representation in industries such as healthcare, retail, and accommodation and food service, which were deemed "essential" during the pandemic and are often characterized by long/irregular hours and low wages, as well as less opportunity for career advancement.[1] Employers need to prioritize making these employee groups feel they are paid fairly, their contributions are valued, and they can move up in their organizations.
Female employees are more likely than males to want to stay with their current employers. As a result of the pandemic, some companies have offered increasingly flexible work arrangements, including flexible work schedules or the ability to work remotely. Female employees took on greater caregiving responsibilities during the pandemic and place greater value on flexibility — once they find an appropriately flexible role, they may not want to leave it.
Finally, employees who have access to expanded benefits packages are more likely to want to stay than those with access to few, if any, benefits.
Strategies to increase employee retention
Make employees feel they are paid fairly and their contributions are valued. Periodically review compensation strategies and adjust them to meet industry benchmarks. Provide bonuses or internal recognition to help improve morale as well as expanded benefits packages, including paid time off and increasingly flexible work arrangements. This will help workers feel more valued and cared for.

Set up employees to succeed and provide a roadmap to move up in the organization. In addition to the training and tools needed to do their current jobs well, provide learning opportunities to help employees grow into new roles. Define career paths so that employees know exactly what they need to do in order to advance, and promote them when goals have been met.

Tailor learning opportunities. For younger employees, this extends beyond developing technology and entrepreneurial skills to providing lifestyle learning opportunities that demonstrate a commitment to their total well being, such as emotional, physical, and financial wellness offerings.

Demonstrate a commitment to DEI. Aim to increase diversity across all levels of your organization, especially for more senior positions. Ensure that websites and other marketing materials viewed by current and potential employees reflect your commitment to DEI.
Recruitment and retention are two sides of the same coin – the strategies presented here to increase retention will also likely impact recruitment, as current and potential employees are often looking for the same things: to be paid fairly for their work, to be valued for their contributions, and to have the opportunity to grow.
LIMRA's BEAT (Benefits and Employee Attitude Tracker) is an annual survey that monitors employee attitudes toward employment in general and benefits in particular. Over 3,000 U.S. employees were surveyed in late 2021 and early 2022.
[1] "Race in the Workplace: The Black Experience in the US Private Sector," McKinsey & Company, https://www.mckinsey.com/featured-insights/diversity-and-inclusion/race-in-the-workplace-the-black-experience-in-the-us-private-sector. Accessed on November 16, 2022.
2"Latino Workers are often Segregated into Bad Jobs, but a Strong U.S. Labor Movement Can Boost Job Quality and U.S. Economic Growth," Washington Center for Equitable Growth, https://equitablegrowth.org/latino-workers-are-often-segregated-into-bad-jobs-but-a-strong-u-s-labor-movement-can-boost-job-quality-and-u-s-economic-growth/. Accessed on December 13, 2022