David Levenson, DBA, FSA, CFA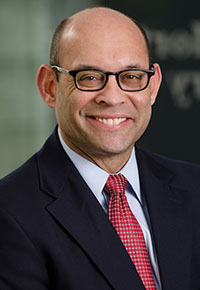 David Levenson is president and CEO for LIMRA, LOMA and LL Global. In this capacity, he is responsible for leading one of the world's largest associations of life insurance and financial services companies, representing more than 1,200 financial services companies across 71 countries.
Prior to joining LL Global, Levenson was a principal at Edward Jones and served on its management committee from 2015-2018. He was responsible for all products distributed through its network of 17,000 advisors in the U.S. and Canada. Prior to 2012, Levenson was president of wealth management at The Hartford Financial Services Group, responsible for the firm's individual annuity, individual life, mutual fund and retirement plan businesses. He also served as president and CEO of Hartford Life, KK in Tokyo, where he was responsible for leading the largest annuity provider in Japan.
Levenson holds his Bachelor of Science from the Wharton School, University of Pennsylvania, his Master of Business Administration from Columbia Business School and a doctorate in business administration from The School of International Corporate Strategy at Hitotsubashi University in Tokyo, Japan.