Who Attends
New for 2020! This year's virtual format allows us to provide additional content applicable to even more people in your organization. The multiple parallel sessions will be designed to address:
Strategic themes aimed at executives
Management sessions for supervisors and sales team managers
Sales sessions for agents and advisors
Highlights
Mark your calendars and join us this October – the 2020 Latin American Conference is going VIRTUAL! This new design will allow even more people to enjoy the same great insights they have received in the past, but in a format that better suits the uncertainty of today's business environment. Insurance professionals from throughout Latin America will be able to come together during this 3 day event to:
Receive exclusive research insights, experience sharing, and predictions for the future that you won't be able to find anywhere else online
Access a variety of content presented in both live and on-demand formats
Connect with other leaders from throughout the region
"Meet" with sponsors to learn more about how they can help you continue improving your business
Participate in live discussion and Q&A
We are currently developing the program for this conference, so please continue to check back for additional details and updates! To view last year's information, please click here.
Interpretation Services
This event will include presentations in Spanish and Portuguese. Interpretation between languages will be offered at no additional cost.
Individual Registration (LIMRA and/or LOMA Member): US $300
Individual Registration (Nonmember): US $350
*Company Registration Package (LIMRA and/or LOMA Member): US $3,000
*Company Registration Package (Nonmember): US $3,500
The company registration package offers an unlimited number of passes to your organization's employees and agents, located within a single country. Please contact Megan Schwartz at mschwartz@limra.com for more details.
*An additional $5 per person bandwidth fee will be charged for companies sending more than 100 people. (The fee will not be applied to the first 100 attendees).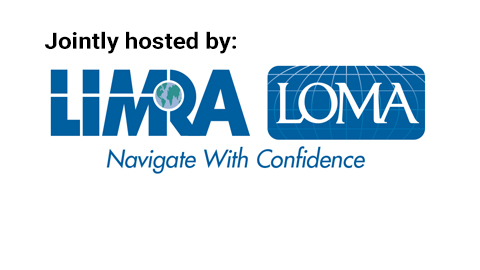 - - - - - - - - - - - - - - - - - - - - - - - - - - - - - - - - - - - - - - - - - - - - - - - - - - - - - - - - - - - - - - - - - - - -
- - - - - - - - - - - - - - - - - - - - - - - - - - - - - - - - - - - - - - - - - - - - - - - - - - - - - - - - - - - - - - - - - - - -